These Root Concealer Sprays Will Allow You to Skip Your Next Salon Visit! [Review]
These days, dyeing your hair can feel like a bigger commitment than most romantic relationships you've been in. Whether you're covering up grey roots or trying to hide the fact that you're really a brunette, keeping the facade alive can be a costly and time-consuming affair. Let's face it; very few people have the budget or time to head to the salon every four to six weeks but that's no reason to avoid your colourist because after what seems like the longest wait in the history of ever, hair concealer sprays have finally arrived on South African shores. We've figured out how to extend the life of our cell phone batteries, make-up, and favourite pair of jeans so why not our dye jobs? Although there are quite a few brands in the race overseas, the first at the starting blocks in South Africa is EVERPRObeauty BACK2BLONDE for fair-haired lasses and EVERPRObeauty ZERO GREY for brunettes.
Hot on the heels of the UK launch, EVERPRObeauty is now available in South Africa with a range of high-performance temporary root concealers that will not only save you money and time but also blow your damn mind.  I'm not kidding around when I say that using this product is like seeing magic happen before your eyes. I must confess, I have never dyed my natural brunette locks but even I, a dye job virgin was super impressed with the EVERPRObeauty range. I was lucky enough to have the products demonstrated to me on both blonde and brunette models and watched in amazement as they covered up roots in a flash. EVERPRObeauty's BACK2BLONDE and ZERO GREY is without a doubt the fastest way to touch up and cover your regrowth and once you welcome it into your beauty cabinet there will be no turning back.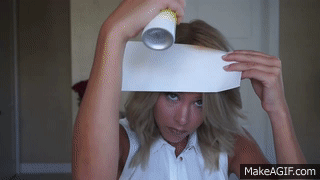 Image credit: www.the-style-files.com.
The range of professional-grade products offers convenient, instant, temporary colour coverage when you just don't have time to head back to the salon. But that's not what really makes these products so brilliant. The brilliance lies in the self-adjusting colour technology (which enables you to match and blend visible roots for a natural-looking, flawless finish) and in the quick-drying, long-lasting formula (which stays put until your next shampoo!). The brilliance lies in the fact that your hair still feels soft and natural to the touch after applying the product. And, best of all, they allow you to conceal your roots without damaging your existing colour!
Blondes will love the EVERPRObeauty BACK2BLONDE range which includes a range of three Temporary Root Concealer Sprays in different shades (Light, Medium and Dark Blonde) and three Temporary Root Touch-up Magnetic Powders in the shame shades. These 6 products offer coverage for up to nine shades of blonde thanks to the self-adjusting colour technology which allows you to build and blend colour as you need. The Temporary Root Concealer Sprays are perfect for at-home use before heading out the door while the Temporary Root Touch-up Magnetic Powder is a more compact version which offers coverage when you're on the go.
The EVERPRObeauty BACK2BLONDE Temporary Root Concealer Spray (R225.00 for 150ml) is an instant fix to match and blend visible dark roots. I love the spray because it features a targeted pin-point applicator that allows for precise application and coverage in just the place you need it. The product also dries in just 2-3 minutes and looks very natural when applied. I was also impressed to see that it doesn't leave visible or sticky residue on your hair or your clothes (bonus!). I tried it on my brunette locks and as it turns out the product is also a fabulous way to get natural-looking temporary blonde highlights without having to head to the salon. I sprayed my whole head with the stuff and was left with soft, shiny hair that looked oh-so-sun-kissed.
As for the BACK2BLONDE Temporary Root Touch-up Magnetic Powder, (R225.00 for 3.7g), this portable handbag-sized companion, complete with mirror and hidden sponge applicator for targeted coverage, is perfect for on-the-go touch-ups. The unique binding formula attaches to each hair strand like a magnet, which means you don't have to deal with flyaways or dusting, and leaves hair feeling soft and looking great once applied. You can also use this product for more targeted highlights on brunette hair. While the products are quite similar I would suggest investing in both the spray and powder at first to see which one you prefer.
If it's grey roots or hairs you want to cover up then EVERPRObeauty ZERO GREY will help you feel confident about your roots again. Word on the street is that this product is currently the market leader in the USA and I'm pretty sure it's going to take the SA market by storm as well. The ZERO GREY Temporary Root Concealer Spray (R189.99 for 100ml) offers the same colour-adjusting technology and instant results as BACK2BLONDE and comes in three different shades (Lightest Brown/Medium Blonde, Light Brown, and Black/Dark Brown) which offer coverage for up to nine hair shades.
The ZERO GREY Root Touch-up Magnetic Powder (R225.00 for 3.7g) is also available in the same shades offers an instant solution to hide those unwanted greys. Of course, this product and the darker blonde shades can also be used by blondes looking to add a few low-lights to their look on the fly.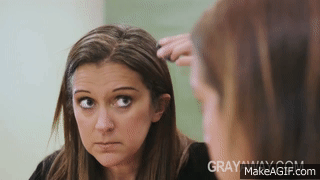 EVERPRObeauty ZERO GREY and BACK2BLONDE will be available in Clicks stores nationwide from 1 April 2017. For more information on the EVERPRObeauty products say Hi to EVERPRObeauty South Africa on Facebook.
Related
Crystal Espin
After years of working as an Editor and writer for popular websites like Joburg's Darling, Cape Town's Darling and Joburg.co.za, Crystal left her sanity and an established career in lifestyle journalism behind to follow her dream of creating a website for the intellectual and discerning woman. Today she spends her time chasing the thrill of being the first to know about 'the next big thing'. She'll try anything once and has been known to put her body, hair and health on the line – all in the name of research.