Gelish Dip Has Arrived in South Africa – Here's Why You Have to Try It! [Reviews]
I love getting my nails done. Mostly because having beautifully, well-groomed nails makes it look like I have my life together. Unfortunately, I'm not very gentle on my hands – whether it's frantically digging through my handbag to find my keys, washing dishes, or attempting to multi-task at lightening speed, these babies go through the wars. Because of this ill-treatment, my nails are constantly chipping, breaking, and peeling (sigh) so a good mani doesn't last very long on my hands. But luckily for me, and my long-suffering nails, there's a new kind of mani in town and it means I get to have beautiful, oh-so-strong nails for at least 2 weeks – no UV light needed! That's right, Gelish Dip has finally arrived in South Africa and I am all kinds of impressed with this must-try system that will have you in and out of the nail salon in no time at all.
While still under the Gelish name, this new product isn't a gel at all. In fact, it sits snugly in the space between gel systems and acrylic. If you absolutely adore Gelish but still find that your nails tend to chip and snap but don't want to go down the full acrylic route then Gelish Dip is for you. Gelish Dip is longer wearing than gel, doesn't require a UV light to cure, and is incredibly fast. And, when I say fast I mean blink and you'll miss it. Where a normal acrylic or gel mani can take up to 90 minutes a Gelish Dip manicure can be done in 30 minutes! It's a lifesaver for busy women who don't have the time to twiddle their thumbs in a nail salon every other week. With the normal manicure prep (filing, minimal buffing, cuticle treatment, etc) I was done with my Gelish Dip manicure in under an hour!
Watching the process for the first time is pretty mindblowing and is a refreshing change from the process of painstakingly painting each finger nail one by one. While there are quite a few steps in the Gelish Dip process they each take a second or two at most. The process starts by applying a prep coat followed by a base coat. You then dip your nails into a coloured powder and dust off the excess before applying another base coat and another dip. To set it you ditch the light and instead apply a coat of activator followed by another base coat. Finally, to finish, you apply another coat of activator followed by a glossy top coat.
From there it takes about 3 minutes for your nails to set and you're ready to take on the world. Oh, and the best bit? Gelish Dip is odour free (ladies who are familiar with that terrible acrylic odour will understand) and it feels very natural on your nails. It's super thin on your nails and feels only slightly thicker than gel. I've had acrylic before and hated how thick and unnatural it felt on my nails so for me Gelish Dip is a winner of note.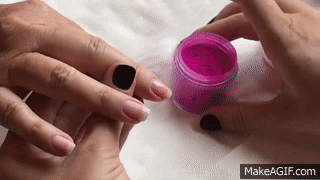 If you're thinking that dipping your nails in a powder seems like an odd way to get a fabulously shiny manicure then you'll be thrilled to know that this system actually offers you a more perfect and precise look than a traditional manicure. We've all been to the salon for a manicure and left with that one nail that isn't painted to perfection but with Gelish Dip there are no irritating bumps, no lines, and no painting mistakes –  just shiny perfection. Gelish Dip last about 2 weeks on your nails after which you can go for a fill before soaking it off (just like gel!) two weeks later. I was incredibly impressed at how great my nails looked after this mani and a week later my nails still look like they were done just yesterday and there isn't a chip or tear in sight (eep!).
I opted to go for a natural-looking Gelish Dip treatment on my natural nails but you can also apply tips on your nails to create more daring looks. And, if you're the type of lady who likes to change it up then the great news is there's no need to commit to one colour for 2 weeks or more. Gelish Dip also offers a clear option which can be set in the same way and then finished off however you like – change it up often with normal nail lacquer or opt for a shiny Gelish finish. Opting for a Gelish Dip clear treatment allows you to have super strong nails for 2 weeks but without the commitment of one colour for what can seem like a lifetime for some ladies.
The Gelish Dip South Africa range offers over 44 colours (with more to come soon) including everything from pinks and purples to blues, nudes, and even fabulous glitter. Perhaps the best thing about Gelish Dip is how quickly you can do a French manicure. It's unbelievable how precise and quickly you can do a French mani with this system and there's no question it's the only way to go when you want a perfect French mani look.
Gelish Dip will be available in most big group salons (think Sorbet, Yemaya, etc) starting beginning March 2017 and from there independent salons will follow. As for the price, this will depend on the salon you choose and you can expect to pay only slightly more than a Gelish manicure. For more information on Gelish Dip and stockists visit the Sparkle Cosmetics website.
Watch the full Gelish Dip process here:
Related
Crystal Espin
After years of working as an Editor and writer for popular websites like Joburg's Darling, Cape Town's Darling and Joburg.co.za, Crystal left her sanity and an established career in lifestyle journalism behind to follow her dream of creating a website for the intellectual and discerning woman. Today she spends her time chasing the thrill of being the first to know about 'the next big thing'. She'll try anything once and has been known to put her body, hair and health on the line – all in the name of research.